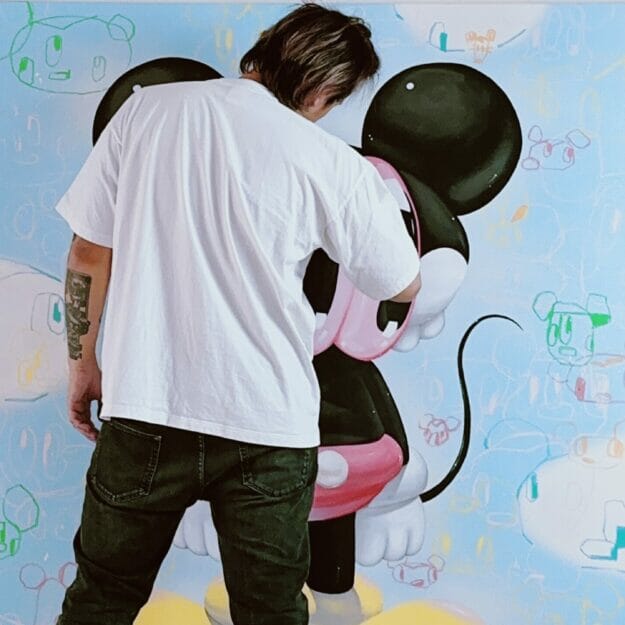 Benzilla
Parinya Sirisinsuk
Born in Bangkok, Thailand (1984)
Parinya Sirisinsuk. As a graduate of Fine and Applied Art from Bangkok University, Parinya draws deep inspiration from various sources such as Pop Culture, Street art, Mythology, and Sci-Fiction. However, it is the enigmatic character "LOOOK," a three-eyed alien, that serves as Parinya's guiding light, offering a unique perspective as an outsider.
Through a masterful blend of craft painting, spray painting, and graphic art, Parinya weaves together a captivating narrative that captivates the senses. The boundaries of conventional art are effortlessly challenged, prompting profound contemplation in the minds of viewers. With humility, Parinya invites all to embark on an exploration of the intricate complexities that define our world.
Prepare to immerse yourself in a realm of curiosity, as Parinya's artwork unveils a transformative journey that enlightens and captivates.
Exhibitions
Solo Exhibition
2023 – Alter Ego / Thinkspace Gallery, Los Angeles
2023 – Lost in Paradise / River City Bangkok, Trendy
2023 – Diamond in the desert / 333 Gallery, Taipei
2022 – Music On / Waluso Gallery, London
2022 – Remember to Forget / All About Art Gallery, Singapore
2021 – Midnight Call / River City Bangkok, Trendy
2014 – Art Love Skateboarding / Goja Gallery, Bangkok
2014 – Young / Sneaka Villa, Bangkok
2013 – Survivor / Carnival, Bangkok
2012 – Evil Candy / Art Gorillas Art Gallery, Bangkok
Group Exhibition

2023 – EXISTENTIAL / Thinkspace Gallery, Antler Gallery, Portland
2023 – GINZA COLLECTOR'S CLUB Group Show / Streams Gallery, Tsutaya Tokyo
2022 – Tutti Fruitti / Tang Contemporary, Bangkok
2022 – I AM A BROKEN MIRROR / Studio 11 Art Gallery, Italy
2022 – The Art Of The Game / AllStar Press, Chicago
2022 – REVV / All About Art Gallery, Singapore
2022 – POV: / Four Seasons Art Space by MOCA, Bangkok
2022 – Current Era Perspective / Lac space, Shanghai
2020 – Skateboard Art Exhibition / Penta
2018 – Graff Session / Sathorn 11 Art Space
2018 – Tornado 4 / Buffalo Bridge Gallery
2018 – Code / Code Corner
2018 – Medium Rare / Kalwit Gallery 2016 – Local / Speedy Grandma
2016 – Blood Sweat Tears / Kalwit Gallery