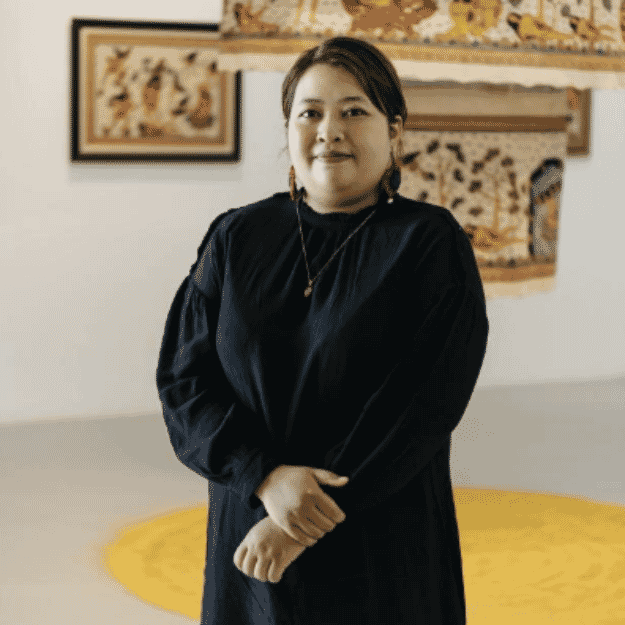 SHORT BIO
Citra Sasmita is a contemporary artist from Bali whose work focuses on unraveling the myths and misconceptions of Balinese art and culture. She is also deeply invested in questioning a woman's place in the social hierarchy and seeks to upend the normative construct of gender.
Born in Bali, Indonesia on March 30, 1990, Citra Sasmita has never formally graduated from an art institution. Studied at Literature diploma, Udayana University (2008) and Faculty of Mathematics and Sciences, Ganesha University of Education, majoring in Physics Education (2009), 
Her dream as an artist grew again when she joined the campus theater group and became a short story illustrator in Bali Post. When she became an illustrator she deepened his self-taught world of art and actively participated in exhibitions in Bali and outside of Bali. 
One of her long-term projects, Timur Merah Project; Harbor of Restless Spirits being presented in Garden of Six Seasons, ParaSite, a painting on cow's hide reflects the Kamasan Balinese painterly language that Citra has been developing in her practice. It represents a geography of female figures, fires, and various natural elements, composed whimsically in an unfolding of pansexual energy. While rooted in mythological thinking with Hindu and Balinese-specific references, the scenes are equally part of the contemporary process of imagining a secular and empowered mythology for a post-patriarchal future.
Gold Award Winner UOB Painting of The Year 2017,  Biennale Jogjakarta 2019,  Citra Sasmita's Solo Show titled Ode To The Sun 2020 at Yeo Workshop, Gillman Barrack, Singapore and Garden Of Six Seasons 2020, Para Site, Hong Kong road to Kathmandu Triennale become the notable award and exhibition in her career.   
CV
b. 30 March 1990, Tabanan, Bali
Perum Bumi Sasih Asri Blok IIB, Gang Melati IA no. 1 Batubulan,Gianyar-Bali
[email protected] | +62 819 993 22 862
website : citrasasmita.com
instagram: @citrasasmita_work
UPCOMING
2023 Choreographies of the Impossible 35th Sao Paulo Biennale  
2023 Open World Thailand Biennale Chiangrai
2024 24th Sydney Biennale
COMMISSON
2021 A Place Further Than The Universe, Mural And Statue Project For IKEA Bali
2021 Ballads Of Monsoon Garden Comission For Monash University Indonesia
2020-2021 UOB Museum MACAN Commission for Children Art Space- Tales of Nowhere
LECTURE
2022 AESCIART, KITLV Leiden and ITB Bandung, The Making Art From South East Asia and The Problem of Colonial Legacy, Bandung
2022 KT2077, Kurakani#19, Kathmandu Triennale, Kathmandu
2022 Artist on Artist; Citra Sasmita on IGAK Murniasih, Museum MACAN, Jakarta
2022 Gallery Webinar Series, Marginalised Woman Artist In A  Masculine Contemporary, Sea Focus, Singapore
2021 Boundaries Beyond Life "Memory, Myth and Matter" Artist in Conversation, JWD Artspace, Bangkok
2021 Forum Pendidik Museum MACAN, Jakarta
2020 Garden of Six Season, Virtual Roundtable with Artists and Curators, Parasite Hongkong
2019 Sosialisasi Kompetisi UOB, Seputar Kompetisi dan Capaian Karya Mumpuni, Bentara Budaya Bali
2017 Seni Rupa dan Perempuan, Makassar Biennale x Koalisi Seni Indonesia, Makassar
SOLO EXHIBITIONS
2020   Ode To The Sun, Yeo Workshop-Gillman Barracks, Singapore
2018 Under The Skin, Redbase Foundation, Yogyakarta
2017 Beauty Anatomy, Laramona, Ubud, Bali
GROUP EXHIBITION
2023 Hoo Fan Chon, Citra Sasmita, Vuth Lyno: New Works, NTU CCA Singapore Residencies for Southeast Asian Artist in the EU
2023 Fundraising Tengara.id & Rubanah, Rubanah Underground Hub, Jakarta
2023 From The Land of Gold Below The Winds in South Seas, Yeo Workshop , Art SG Singapore
2023 Bale Project Art Jakarta Gardens
2023 Sua Kuasa Matra, ISA Art Gallery, Jakarta
2023 Perforated Sovereignty, SECCA BEGA, New South Wales, Australia
2022 Our Grandfathers Road, 16AlbermarleProjectspace, Sydney
2022 Jakarta International Literary Festival, Jakarta
2022 ASIA NOW Paris, Yeo Workshop, Monnaie de Paris
2022 Garden of Ten Seasons, Savvy Contemporary, Berlin, Germany
2022 Open School/Meet The Residents, WIELS Brussels
2022 Flow, Yogya Annual Art 2022, Sangkring Art Space, Yogyakarta
2022 Connectivity, Srisasanti Syndicate, Yogyakarta
2022 Art Jakarta Gardens, Bale Project, Jakarta
2022 New Art From Bali and Bandung, 16Albermarle, Sydney
2022 Kathmandu Triennale, Patan Museum, Kathmandu
2022 Good News From Bali, Mizuma Gallery, Singapore
2022 S.E.A Focus 2022 Change Constellation Yeo Workshop, Singapore
2021 Post Identity, Bali Contemporary Art Now, Artsphere Gallery , Jakarta
2021 Passion Of Three Kingdoms, Redbase Gallery, Sydney
2021 ARTJOG MMXXII, Time To Wonder, Jogja National Museum
2021 Transboundaries Yogya Annual Art, Sangkring Art Space , Yogyakarya
2021 A Life Beyond Boundaries, JWD Art Space, Bangkok
2021 #Perempuan, Castlemaine Museum of Art, Sydney
2021 Host, Edel Assanti, London
2021 Hidup Berdampingan Dengan Musuh,  Ciputra Artpreneur, Jakarta
2021 Art Jakarta Virtual, Booth Bale Project
2020 Indonesia Calling 2020, Sixteenalbermarle, Sydney
2020 Art Jakarta Virtual, Booth Makassar Biennale
2020 UOB Indahnya Berbagi dalam Berkarya, Dari Seniman Untuk Seniman
2020 Pekan Kebudayaan Nasional "Ketahanan Tubuh"
2020 Semesta Perempuan, Museum Basoeki Abdullah, Jakarta 
2020 ARTJOG Resilience, Jogja National Museum, Yogyakarta
2020 Virtue, Celebrating 8th Abdurahman Wahid Center For Peace Universitas Indonesia, Jakarta
2020 Arisan Karya, Museum  Macan,  Jakarta
2020 Garden Of The Six Seasons, ParaSite, HongKong
2019 Bali Mega Rupa, Neka Museum, Bali
2019 Biennale Jogja, Do We Live In The Same Playground, Jogja National Museum
2019 Siklus Buana, Gallery Cipta 2, Dewan Kesenian Jakarta
2019 Nurture (Bumbon Project), Gallery Katamsi, Yogyakarta
2019 I…Therefore I Am, Can's Gallery, Jakarta
2019 Synthesis (Wonders Of Indonesia), National Gallery Kvadrat 500 Bulgaria
2019 Self /Field, Workshop, Ubud Bali
2019 Exploration, Titian Art Space, Ubud, Bali
2019 Tanda Seru, Uma Seminyak, Seminyak, Bali
2019 Fundraising Bali Yang Binal, Cush Cush Gallery, Denpasar, Bali
2018 Celebration of The Future, AB.BC Building, Nusa Dua
2018 Masa Subur; Efek Samping, Karja Art Space, Ubud
2018 It's A Match By Indoartnow, The Parlor Bandung
2018 Art Bazzar Jakarta, Booth A5 Presented By Uob Bank, Pacific Place Jakarta
2018 REDRAW III: Ugahari, Edwin's Gallery, Kemang,Jakarta
2018  Yogya Annual Art, Positioning, Sangkring Artspace, Yogyakarta
2018 Form Of Diversity, Redbase Foundation Yogyakarta
2017 Finalist UOB Painting of The Year Exhibition, UOB Plaza, Jakarta
2017 Kecil itu Indah #15, Edwin's Gallery, Jakarta
2017 Yogya Annual Art #2, Bergerak, Sangkring Art Space Yogyakarta
2017 Luwih Utamaning Luh, Taman Budaya Denpasar, Bali
2017 Lady Fast Vol. 2, Spasial, Bandung
2017 Imago Mundi, Bentara Budaya Jakarta, Yogyakarta, Bali
2017 Mabesikan Project, Art for Social Change Presentation, Salihara, Jakarta
AWARD
2017 Gold Winner UOB Painting of The Year
RESIDENCY
2022 SEA Air – Studio Residencies for Southeast Asian Artist by NTU CCA Singapore in the EU, WIELS Centre d'Art Contemporain in Brussels
2019 Residensi Jogja Biennale di Kota Kinabalu, Sabah-Malaysia supported by Bekraf, Jogja Biennale, and Vallentine Willie
2018 Artist in residence, Red Base Foundation Yogyakarta
2017 Festival Bangsal Menggawe (Kolaborasi Seniman dan Masyarakat), Pemenang, Lombok
Utara supported by Komunitas Pasir Putih dan Koalisi Seni Indonesia 
PERFORMANCE ART
2018 Performance Art "Synthetic Apriory" Collaboration with Andita Purnama, Masa Subur; Efek Samping Exhibition, Karja Art Space, Ubud